The development of a sewing pattern is a work of several months. I'm going to explain more in details how it works at Opian.
As you probably know, there is only one person at Opian, and that's me, Chloé. I am in charge of designing, patternmaking, instructions, drawings, marketing, customer service, site maintenance, website and social media content, translation, accounting and everything else I forget. However, I also have a job in a completely different field that takes up a lot of my time. It is for this reason that new sewing patterns and kits are released at a limited rate per year.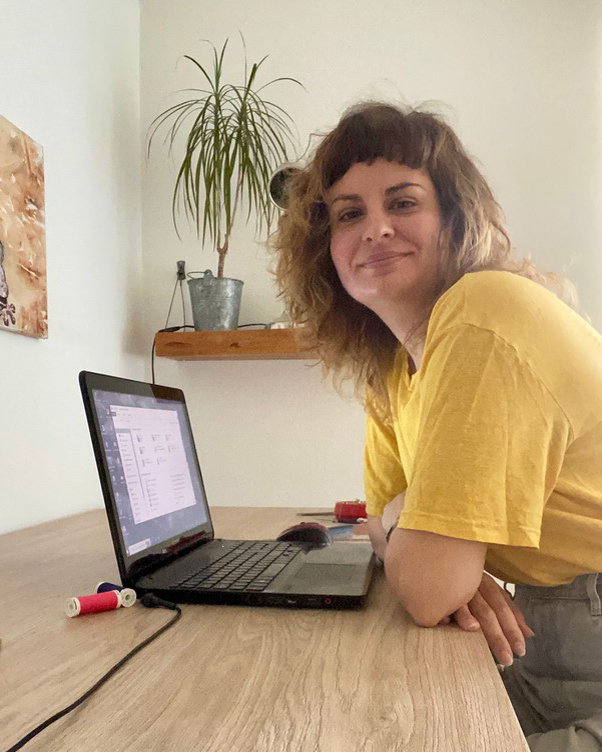 First, I gather ideas for different clothes like photos, fabrics, or images and keep them in a notebook or on Pinterest. I always have several side ideas simmering, and I choose according to the seasons. Indeed, you can sew for yourself in the middle of the season, in advance or completely randomly. Since swimsuits are the best-selling items, I favour this type of clothing. Moreover, it is a real pleasure to create these models.
For Opian, the development of a sewing pattern takes months, even years. For example, for a swimsuit, if I start too late, I miss the start of the spring/summer season. As a result, I often put aside a project to resume it a few months later in order to launch the pattern in sync with the season. This is why releases take time. If I take the example of the two swimsuits this year, one model was made in seven months, and the other in three years! In the future, I want to reduce this development time and plan my schedule better and stick to it.
Regarding the technical part, I make the pattern by hand and generally flat, then I make a toile to see what it looks like in 3D. I transfer the modifications and redo a toile until the fit is as desired. I then sew a prototype, noting the step be step as I go which will be developed in the instruction file.
Once the pattern is ready, I transfer everything to Illustrator in the size of the prototype, I grade and lay out the pattern board. I then prepare the file of the instructions to follow with the cutting plan, the descriptive illustrations, the technical drawing and all the rest. All this computer work is the biggest part of developing a sewing pattern. I am often told that I must sew a lot, but that is not the case at all. Between development and marketing, I spend more time at the computer than at the sewing machine.
A big part of my job is also to do the work twice, once in French and once in English. And yes, everything must be translated in order to be able to expand the possibilities. Everything, i.e. every page of the site, every blog post, every article description, every social media post, every visual with text and every pattern. This is a part that also takes a lot of time, but which seems essential to me.
When everything is ready, I launch the test phase and easily give everyone who volunteers a month to make the model. The selection criteria has changed a bit over time. Indeed, at the beginning it was possible to send photos of their makes if they did not have Instagram, now I ask for a public account. This in order to be able to see if the person who applies really sews in life. Indeed, I am sometimes surprised by people who apply and have never sewn. It's obviously rare, but it does happen. In addition, you have to realise that I give a project I worked on for a long time to strangers (at the beginning), so I need to put a face or a universe on a person. I also look for a variety of different sizes to see if it fits the most people. I also need people who speak French and English for everything related to the text. And besides, I can't thank enough all the testers who have participated over the years, and all the people who have applied. It is a great help that would be difficult to do without.
During the test period, I start working on the blog posts in relation to the future sewing pattern, but also the visuals and all aspects of marketing. I am also looking for another volunteer who would like to be photographed for the website and social medias with the garment worn, and with a little luck for magazines too. In general, they are friends or my sister whom I also thank very much.
Once the test reports are back, I collect the feedbacks and make changes to the pattern or instructions. The tastes and colours being different for each person, I try to do according to the preferences of the greatest number. It is also interesting to have different feedbacks and opinions, which allows us to know the expectations of customers.
When everything is ready and the sewing pattern is checked and double checked, I launch the most intense phase, after the test phase; the launch of the model on the website as well as on other platforms. It's always an intense period with a lot of expectation after all these months of work, but also a lot of joy to finally let the sewing world know about this new DIY garment.