I often hear that sewing a swimsuit seems to be unattainable because you must have a lot of sewing experience. Rest assured this is not the case. You can very well make a bathing suit if you are just starting out and want to.
However, there are models that are easier than others to make, but above all with less material to source. Indeed, it is not always easy to find the right supplies for lingerie and swimwear. I also struggle a lot finding what I'm looking for in haberdasheries in Switzerland, whether it's elastic bands, rings or fasteners. As a result, I have to order from abroad, which is not ideal. This is one of the reasons why I offer sewing patterns with as few supplies as possible, while having a comfortable and modern bathing suit.

LISKAMM

,

PILATUS

,

JAMANOTA

and

SÄNTIS

are models that only require four-way stretch fabric and elastic. Isn't that great? The lining is also optional, it can be an additional comfort if the fabric is transparent. It's up to you to decide and get started!
And to help you, I have prepared some tips for having a homemade swimsuit with a top finish.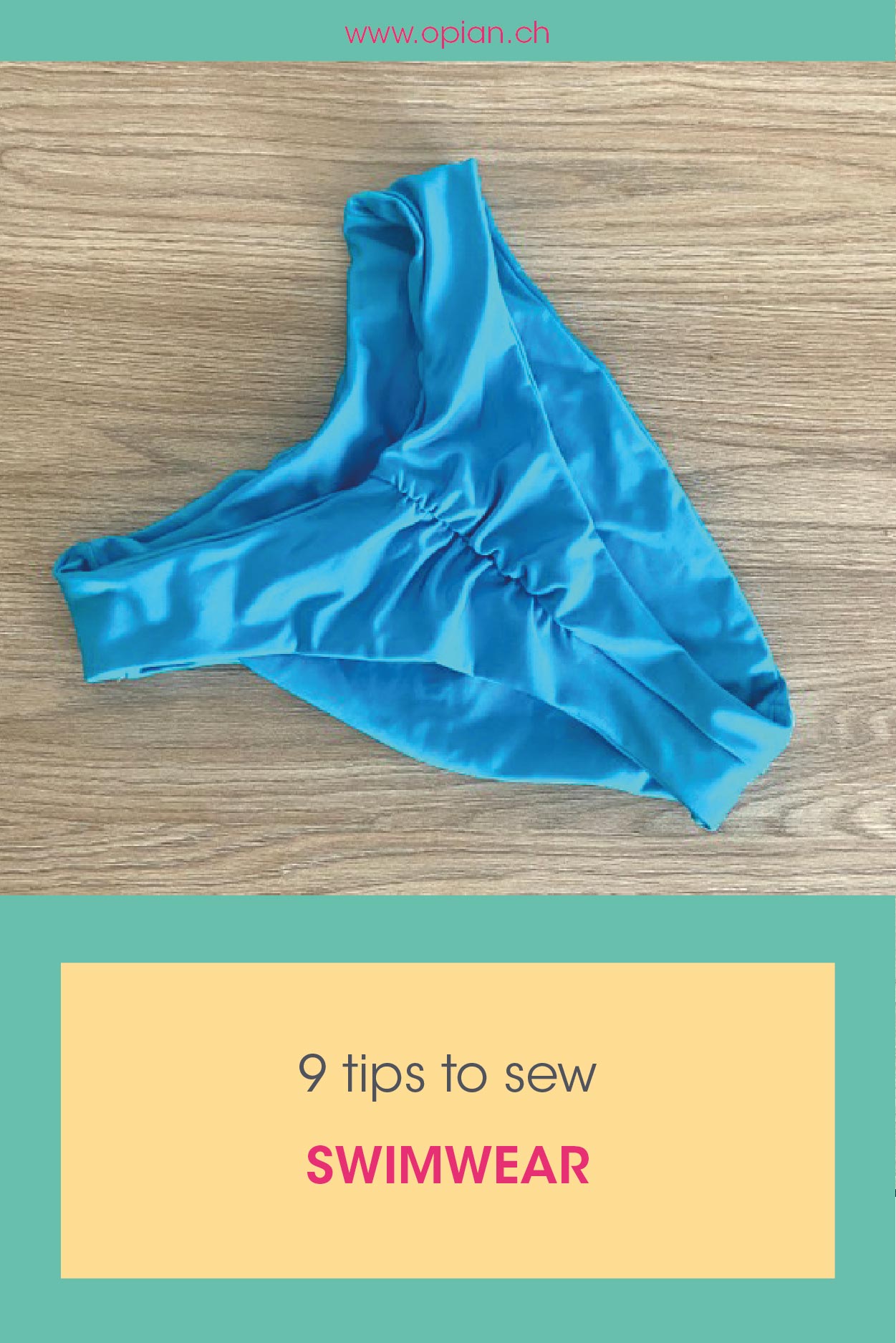 Choose the right fabric
The success of a swimsuit lies in the choice of supplies, and first and foremost the fabric. Indeed, it is not recommended to use natural fibres to sew a swimsuit. Cotton is particularly absorbent and stretch when wet, which is not ideal when going in the water. It is best to take synthetic fibres like lycra or polyester with elasticity in both directions. The fabric should also get back into place easily to prevent it from stretching. Some fabrics are produced mainly for this type of clothing and offer better resistance to the sun, chlorine and water.
Choosing the right lining
Depending on the main fabric used or your preferences, the swimsuit will need a lining. It is just as important an element as the main fabric. In order not to alter the elasticity of the swimsuit, you should also choose an elastic lining in both directions (four-way stretch).
Additionally, it should be taken into account that adding a layer of fabric and the less elasticity of the lining can make the swimsuit tight, which is why you may have to choose a size above.
Do not use the iron
You may have heard it, but you should not use the iron. This is important because it may melt the synthetic fabric. And anyway, it's not necessary with this type of clothing (it changes from what I usually say about compulsory ironing!). Indeed, with the stretch fabric the seams open by themselves. You just have to be careful to open them well when sewing.
Choose the right elastic
Another important element is the elastic. It is necessary to use a special rubber elastic swimsuit, which will make the garment more resistant to different elements and therefore more durable. In France, it is called laminette but it is not the case everywhere and it is difficult to find in haberdasheries.
Choose the right thread
Like the fabric, you must select a polyester thread that will better resist chlorine. You can even use a foam yarn which is more vaporous and is ideal for this type of clothing.
Choosing the right needle
Another important point is the choice of needle. You can try anything you want with your machine, it won't work until the needle is good. You can use a microfiber, jersey or stretch needle. It depends a bit on each fabric, so you have to do a few tests so that the needle can pass through the stitches in the fabric and it does not skip stitches.
Check your measurements
Before you start cutting, check your measurements. Be careful because the measurements of the swimsuits are negative. That is, they are smaller than the body and the elasticity of the fabric gives ease. You can find more details about fluency in this article.
In general, stretch fabric clothing is quite adaptable, so adjustments are minimal. However, you have to take into account the length of a one-piece swimsuit.
Use elastic stitches
Swimsuits are like sportswear, they should be elastic all over. Therefore, it is essential to only use elastic stitches. Ideally, an overcasting machine is used to sew a swimsuit, however this is not required. It is possible to make a swimsuit perfectly with a sewing machine.
Do not pull on the fabric when sewing
The most important thing is not to pull on the fabric when sewing the swimsuit. Indeed, it relaxes the fabric and deforms the room. When you sew an elastic, you only need to pull it lightly to make it fit the fabric, but no more.
With these few tips, you'll be ready to start making your swimsuits. And you can find even more tips on how to sew yourself a dream swimsuit, read all our posts here.
If you have any other advice, feel free to leave a comment.