Contrary to popular belief, sewing is quite an expensive hobby.
We notice it as soon as we start looking for the first supplies to make a garment. All that without counting the sewing machine which is a big investment. Finally, making a t-shirt is much more expensive than buying one already made on the high-street. Which is an aberration, and which is another subject than that of the day. Indeed, in this post, you will discover tips to make savings in sewing.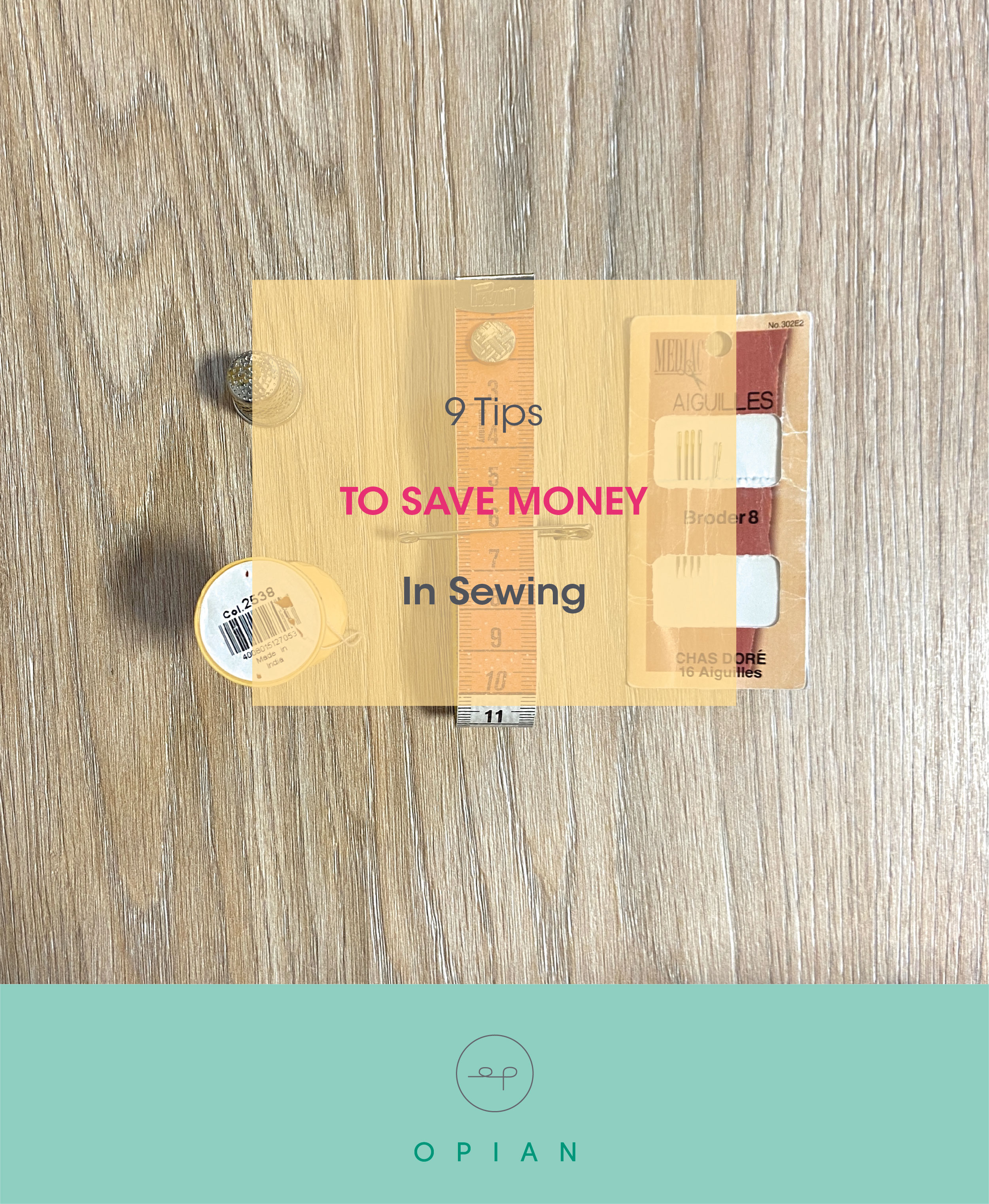 Buy a fabric for a project
Fabric is probably the most expensive part of a piece of clothing. In order not to buy fabrics which will stay on the shelves, it is recommended to get a fabric with a project in mind. This way, it will be easy to take the necessary footage for your garment, and thus avoid waste.
Check recommended footage
The yardage indicated in the pattern's instruction booklet is not always calculated for each size, it can often be given for the largest size. Therefore, it is useful to cut out the pattern in your size and measure again the necessary footage in several widths. The footage for Opian patterns is calculated by size group and there is always a small safety margin. However, when recalculating, it is necessary to take into account the shrinking of the fabric and the print, since these elements require a greater amount of fabric.
Look for discontinued products
Some designers or factories organise sales for discontinued fabrics and haberdashery. This is an opportunity to have fabrics at reduced prices and sometimes they are trials which are not published in large series and are therefore unique.
Make a toile
For each pattern, it is recommended to make a toile before cutting into the final fabric. It is often seen as a waste of time and money. However, if you cut a garment directly in the beautiful fabric and it doesn't fit, the piece of clothing will not be worn and the money will be lost. It can't be stressed often enough, but all the bodies are different and the patterns can't go to all these bodies. Sometimes it is necessary to make alterations to the pattern before cutting in the fabric and this is where the toile comes into play. It is a roughly sewn garment which allows to see if the garment is well cut for your morphology and to make the adjustments directly on yourself. I use a lot of toile to create the Opian patterns, and I unstitch all the garment once correct in order to reuse the pieces of fabric for other prototypes.
Organise your material
Knowing the things we have in our cupboards is important, because it allows us to remember what we already have and not to buy double. To do this, you have to organise your material! In boxes, drawers or baskets that we already have. You can put the patterns on one side, the threads on the other and the various ribbons and haberdashery together. Classification by type of supplies is easier to find and not to forget anything.
Use scraps
At Opian, all possible materials and supplies are recovered, be it paper, fabrics, ribbons, buttons... It is a way to save money, but also to avoid waste. A4 paper for testing PDF patterns is scrap paper already used, part of the fabrics used to make the toiles or prototypes comes from designer's deadstock, part of the supplies are provided from people's drawer. I noticed that talking a little around, a lot of people have leftover fabrics lying around in the cupboards and are happy to get rid of it. However, if you don't really fancy retrieved material, it's a good idea to use it for testing.
Visit charity shops
People often dispose of leftover fabrics, trimmings or wool in charity shops. It can be a good way to find cheap things.
Use patterns several times
A pattern is a model of a garment that can be made as many times as desired. In order to make your purchase profitable, you just have to use it several times. You can slightly modify it or choose another type of fabric. Indeed, the fabric used can give a totally different look to a garment.
Choose PDF patterns
Paper patterns are the most expensive patterns. Indeed, they are printed on a large sheet of paper and usually no piece overlap. So, to save money, choose PDF patterns or even cheaper; magazine patterns. Note: if you have never sewn, avoid magazines. Indeed, there are several patterns which overlap on the same sheet, and that is not practical to decrypt.
I hope these tips will help you save some money. If you have others, don't hesitate to share them in the comment section.