When you have an idea in your head, it's not always easy to find an alternative when something doesn't go as planned. This is also the case in sewing! Sometimes I think to myself that I would make a particular garment with a fabric that is in my wardrobe that I have not unfolded for a long time. I think about it for a while and when I'm ready to start making the pattern, I unfold the fabric... and bam, the length isn't long enough! Disappointment rises and the urge to sew suddenly dissipates.
But beware, all is not lost. Here are some tips to give you hope and make that garment you want so much.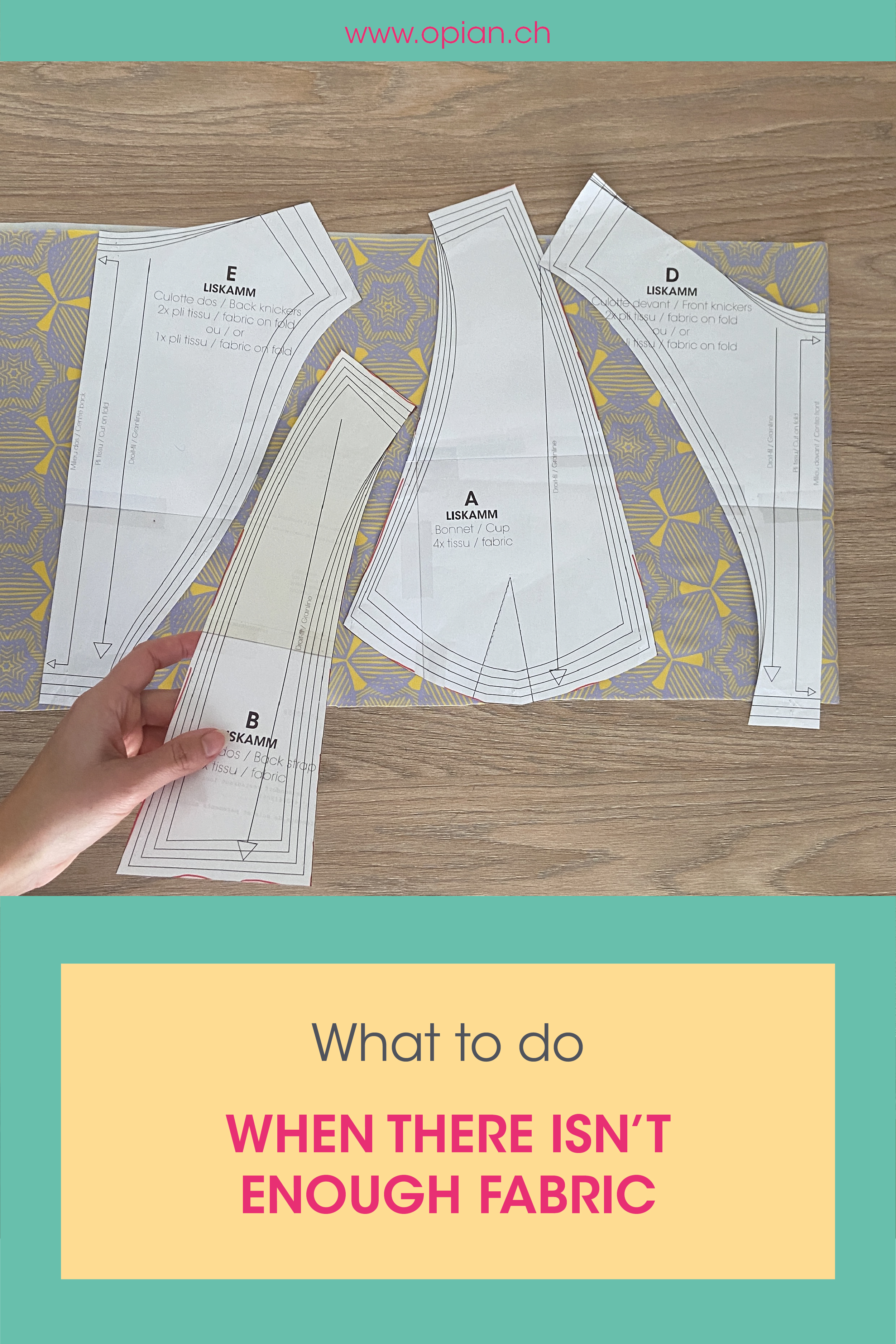 Recalculate the pattern yardage yourself
For all Opian patterns, I suggest tiered yardage for a few sizes and I'm quite generous in making sure all the pieces fit together easily. I therefore advise you to lay the pattern pieces according to your size and to recalculate the yardage as close as possible.
Cut the pieces in several times
To save the most space, you can cut some pieces with the fabric folded, then open the fabric to cut the remaining pieces. This saves space and even saves fabric for something else.
Indeed, the cutting chart for Opian is developed according to a method that allows easy reading. However, you can easily detach from it to adapt to what is available to you.
Use a different fabric for facings or pockets
The interior pieces that finish the edges of a garment usually do not show, so there is no need for the fabric to be the same. Or on the contrary, you can add a touch of originality by choosing a completely different fabric for the visible facings.
In addition, some fabrics are thick, so it is worth using a thinner fabric for the interior parts to avoid unnecessary thickness. This is a particularly a good idea for pockets.
Remove garment details
Frills, appliqués and even pockets are too much, remove them! If you are interested in the shape of the garment and not the details, there is no need to do them. This is surely a controversial point in the sewing world, but no need for pockets everywhere! Well, that's coming from someone who doesn't like frills and unnecessary things like trinkets that gather dust, so it's debatable.
Shorten the hems
The garment has long sleeves, a hem to the ankles, then why not shorten the hems!? It will allow you to use this fabric that you like so much.
Reduce gathers
Do you have in mind a garment with a gathered part? So why not reduce those gathers a bit so you can fit everything on the piece of fabric. The way to reduce gathers is different for each garment, see how it is possible to remove some of it.
Swap facings with bias
I'm not a big fan of sewing bias binding, but it can save a lot of space if you use it to replace facings, so why not. Obviously, you have to buy one already made or cut it in another fabric, because it may take up too much space of the same fabric.
Mix fabrics
Not enough fabric, this is an opportunity to use several different pieces to make an original garment. And why not mix prints and colours. I have already seen patchwork garments with carefully mixed fabrics for a top result, as if it were a deliberate choice. To try!
Do not play with the grain
The grainline is an important element in the holding of a garment, so do not play with the grainline and the fall of the fabric or you will be disappointed with the long-term result.
Additionally, some fabrics have a pile or print direction, which can be seen when the garment is finished. So that's not even an option.
I therefore strongly advise against placing the pieces of the same pattern at an angle of 90 or 180°.
I hope you like these ideas and that you find solutions to use this fabric that you love so much. Happy sewing!