After launching a

survey last year

, I realised that people don't know much about Opian, let alone those, or rather the one behind it.
While the survey was published only on Opian social medias and newsletter subscribers, many of the respondents said they had never heard of the brand. That's why, I thought I was going to tell you a little bit more about the story of Opian, starting with my journey.

I hear a lot of people telling how and when they started sewing, for my part I don't remember, it's probably because it's been way too long! On the other hand, what I remember is that I was making disguises with my mother for the Escalade, a kind of carnival from Geneva. I would choose a theme and we would explore together at how to do it with what we already had in stock. Without a doubt, my mother did most of the work and all that without sewing patterns!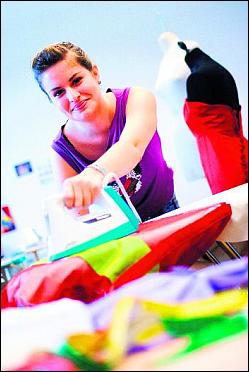 I always liked to do something with my hands and seeing the result in front of your eyes is rather satisfying and above all tangible. That's probably what made me want to make sewing my job. So I first went to business school, then started fashion studies. Each end of the year, a mini collection had to be presented during a fashion show in a large performance hall. The training was very focused on the development and realisation of a garment, rather than design and drawing. The picture above was taken at school when a daly newspaper came in to make an article about the fashion show in planning. Not very comfortable, I had to lay down on the iron board wondering what would be the result...

With my diploma as a stylist-pattern maker-seamstress in the bag, I went to London for the first time to take summer courses at Central Saint Martins school. I learned a different way of pattern making with the draping on the flat method and I also took my first step into swimwear design. For the anecdote, one of the teachers was Esme Young, who is now a judge on The Great Bristish Sewing Bee.
After finishing my studies, I went to London for the first time to take courses at the Central Saint Martins school. For the anecdote, Esme Young of The Great British Sewing Bee was one of my teachers. Then I did an internship with a New York designer in Geneva, Switzerland. I would have stayed there forever, however it was an unpaid internship, so not possible.
In parallel with a day job, I started making patterns and sewing clothes for a private clientele. It was also at that time that I chose to launch myself under the name Opian. This name doesn't have any meanings, but I liked the sounds of it and I needed a timeless name that I would like for a long time.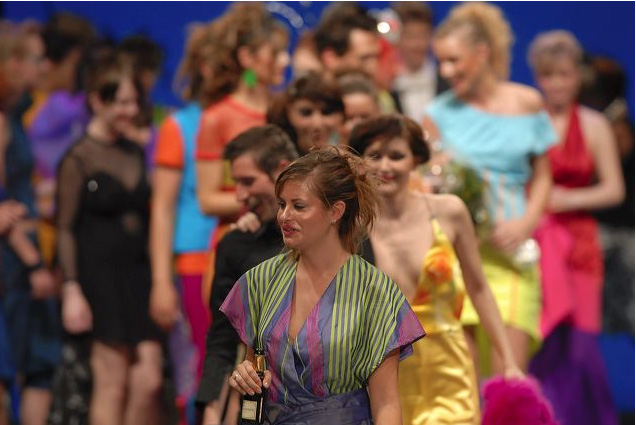 At the end of 2009, I wanted to escape and decided to move to London. I have had several jobs in fashion during these years such as a sales assistant, accessories manager, visual merchandiser and production coordinator in textile. It made me discover many facets of the fashion and textile world and learn a lot about the industry.
In parallel, I continued to make clothes and accessories made to measure or as a one-off piece. You can see some of them in the online store.
It's also at that time that sewing became popular again with the help of The Great British Sewing Bee. I also discovered that there were other small and independant brands of sewing patterns other than Burda, Simplicity or others. It was then that I started to think about a new path for Opian. I also took more than two years to embark on this new project which is the sale of sewing patterns to home sewers. And after returning to Switzerland after several years in London, I launched the first Opian sewing patterns, Cemette, Pollux and Alvernia. It was summer 2016, time flies.
I have lots of pattern ideas, blog posts, tutorials, marketing, and courses in mind, however Opian is an activity in addition to my full time job. So I don't have a lot of opportunity to work on it and everything takes time. Opian releases, offers and evolution are unfortunately not as fast as the other brands that do it full time and with employees. I took a long time to take these elements into account so as not to compare myself to others.
Regarding the near future, I have been working for months (meaning years) on two sewing patterns. A blouse and a bikini. The test phase has not yet started, but they should be ready before the summer.
Finally, I often hear and read in indie business coaching the question: "Why? Why are you doing this?" My answer is that I like to create and do something with my hands. Surely I could have done another creative job but I like touching fabrics, and knowing that we can use a garment and it's not only a decoration is what I love the most.